CANE CATCHER®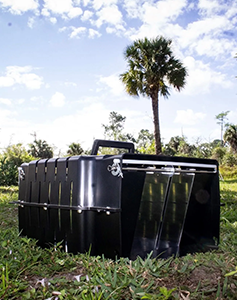 Introducing CANE CATCHER®, the world's only touchless cane toad trap. The patent-pending design was created specifically to attract cane toads and developed through years of prototype field study. A built-in touchless method of disposal feature allows you to easily empty. Originally created by professional animal trappers for private use with remarkable results in reducing cane toad populations, CANE CATCHER® is now available to the general public for the first time. Cane toads, also known as bufo or marine toads, are a large invasive species that are poisonous to most animals including domestic pets. The Florida Fish and Wildlife Conservation Commission (FWC) encourages landowners to kill cane toads on their own property whenever possible.
Ideal for Community and Residential Control
CANE CATCHER® provides property managers and homeowners with a solution for communities and properties that are being invaded with these toxic creatures. Communities utilizing the CANE CATCHER® system have seen a reduction in toad populations by as much 90%! For added peace of mind, residents can purchase additional stations for their homes as well and enjoy ease of use while giving them added protection for their beloved pets.
Finally a Long-Term, Sustainable Solution
Until now, worried pet owners had no choice but to hire professionals for repeating night hunts or take matters into their own hands. But unlike costly night hunts, CANE CATCHER® provides a sustainable long-term solution with round-the-clock depopulation. The sleek design blends in discreetly with the landscape and provides 24/7 continuous trapping. Each CANE CATCHER® station must be monitored regularly. Monitoring includes disposal of toads, rebaiting and resetting of each unit. CANE CATCHER® also provides an easy release method for non-targeted animals. Units can be self maintained or contact us for a list of CANE CATCHER® Certified Professionals in your area.
Protect our Native Wildlife
Until toads reach a size of 1½" it is difficult to differentiate between an invasive cane toad and a harmless native toad. Be sure to set native toads free
Each Toad Removed Makes A Difference
Not so Fun Fact: Female cane toads can produce as many as 30,000 eggs per season! So every toad removed makes an impact on saving our environment from this invasive predator.