Rodenthor Baits, Traps, and Stations
High Performance
RODENTHOR Rodent Baits contain the advanced anti-coagulant, single-feeding active ingredient, bromadialone, at a concentration of .005%. Anticoagulants such as bromadiolone accumulate in the liver where they inhibit and steadily decrease Vitamin K levels in the blood. This prevents the blood from clotting which eventually leads to death.

Bromadialone is such an effective anticoagulant that, even at such a low concentration in the diet as found in RODENTHOR Rodent Baits (.005%), it is able to killl both rats and mice in one feeding. Combined with their excellent acceptance and Thor value, this combination makes RODENTHOR Rodent Baits the new power in rodenticides.
Contains The Bittering Agent BITREX
RODENTHOR Rodent Baits contain the bittering agent BITREX. BITREX is the brand name for the most bitter substance ever discovered. It is inert and odorless, yet the inclusion of only a tiny amount in a food substance is all that is needed to make products containing it unpalatable. Children are particularly sensitive to the taste of BITREX, making it a powerful deterrent to accidental ingestion of RODENTHOR Rodent Baits by humans and, to a certain extent, by domestic animals.
Full Range of Usage Locations
RODENTHOR Rodent Baits are labeled for use in a wide range of locations. Approved locations include in and around homes and residential buildings, food processing facilities, industrial, commercial, agricultural and public buildings, and similar manmade structures. (All outdoor bait placements must be made in tamper-resistant bait stations, locked and secured. Refer to product label for complete use directions and restrictions.)
RODENTHOR Soft Bait - Performance Proven Palatability
In a recent study, RODENTHOR Soft Bait was proven to be the most palatable bait formulation tested, including against the rodents' normally preferred diet. It also achieved a 100 % mortality rate in both mice and rats. Tests have shown that rodents prefer certain tastes to others and that they also prefer soft baits to harder ones.

This knowledge was used in order to maximize the attractiveness of RODENTHOR Soft Bait by combining the bait with attractants that ensure the rodents will be drawn to it. The added attractants also cover the taste and smell of the active ingredient and ensure that the rodents feed on the bait for a longer period.
RODENTHOR Block Bait
RODENTHOR Rodent bait is also available in a traditional wax block form. RODENTHOR Block Bait is both highly palatable and highly weatherable. RODENTHOR Block Bait is perfect for wet environments and it resists molding.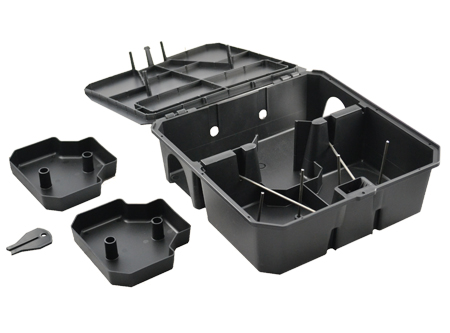 RODENTHOR Rat Bait Station
• Innovative easy opening locking system
• Right size - not too big or too small
• Rugged molded PVC construction
• Leak resistant design
• Stainless steel rods keep bait securely in
station
• Optional removable bait trays
RODENTHOR Snap Traps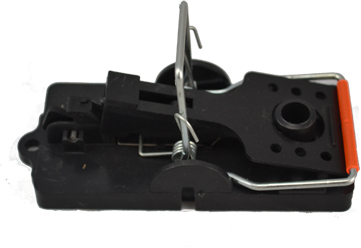 RODENTHOR Snap Traps possess an enlarged trigger area. RODENTHOR Traps are constructed of rugged PVC and are available in both rat and mouse sizes.